Why You Need a Plan
One of my favorite quotes is from Dwight D. Eisenhower: "Plans are nothing; planning is everything." These few words can be applied to absolutely any area of your life, but they especially apply to your social media marketing. Fly-by-the-seat-of-your-pants social media marketing won't get you the consistent results you're looking to find.
You'll waste time, energy, and money, and you'll find yourself frustrated at your lack of results. A good plan makes social media fun again.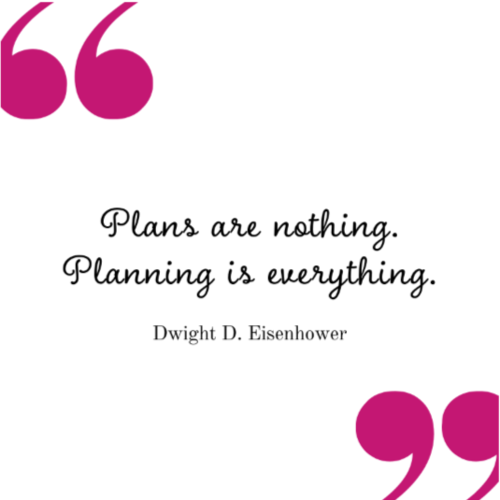 Eliminate writer's block.
No more sitting in front of your computer confused over what to post on social media. With a plan, ideally, in a calendar format, you'll know when to mention your holiday specials, promote live events, or tell your followers about your new podcast episodes. You can also plan out daily themes, similar to the #ThrowbackThursday posts you see on Facebook every week. Choose daily or weekly themes for your posts and the topics and products you're promoting will fall into place.
Avoid gaps in posting.
What happens when someone posts daily for two weeks then disappears for a month? People will forget about them and they'll have to start from square one to develop those relationships again (trust me, I know from experience). How often you post is entirely up to you, but if you know you'll have spotty internet service while on vacation, plan ahead and either schedule those posts or partner with a virtual assistant to publish posts and engage on your behalf while you're gone. Don't just hope for the best, and then be surprised when you return that your engagement stats have plummeted.
Promoting affiliate offers should always be part of your passive income strategy, but are you promoting the best products for your audience? Knowing your ideal audience is paramount to choosing affiliate products, but that doesn't mean promoting everything that comes across your feed. Be choosy. One coach I know said she'll only promote something if she would recommend it to her best friend or favorite colleague. Adding these products to your social media plan allows you to be picky and choose only those programs that will benefit your client.
Brand awareness.
Plan out when you want to go live on Facebook so you can promote those events. What will you talk about? Will you host monthly Q&A sessions? If so, when? You'll most likely come up with dozens of ways to develop your brand awareness, and it's easier to schedule these things on your social media calendar. Not only does it save you from not knowing what to say, but your virtual assistant will also be in the loop and can help keep you on track.
Social growth.
We all want huge followings on social media and more name recognition, but it takes time and patience to grow that following organically. Yes, some people will offer you quick ways to accomplish this (usually by using bots or other objectionable techniques). To get a grip on what your audience needs and wants, you have to interact with them. Block off time on your calendar to personally interact with your audience, even for 30 minutes a day.
Choose a time of day when you KNOW your audience will be online for best engagement. If you want to offer a freebie or other treat for your social media audience, adding that to your social media calendar will allow you enough production time as well as promotion time.
Create some buzz about this gift and gain even more followers!
When you have a social media plan in place, you're removing the guesswork of what to post, what to chat about, and what your audience wants to hear. Follow the steps in my free planner to get started, but keep the momentum going by planning more and more into the future. As you finish one week, go to the end of your calendar and add another week's worth of plans. Or get bold and start scheduling a month at a time. No matter how you fit this task into your day, planning your social media will be a lifesaver for you.
Get My Social Media Posting Planner Free!
This step-by-step planning course will walk you through creating a simple, easy-to-follow social media and content marketing plan that you can implement and then pass on to your support team.